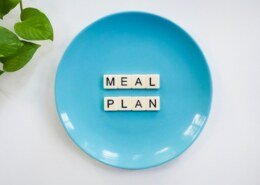 Breakfast
Protein source (usually meat or eggs) – Example: bacon and eggs.
Low-carb vegetable (if desired) – Example: mushrooms for the omelet.
Fat source (optional) – Example: cheese to make an omelet.
Lunch
Meat or other protein source – Example: grilled chicken (leftovers or store –bought)
2 cups of salad greens – Example: bagged salad greens
OR 1 CUP of vegetables – Example: green beans
Fat source (optional) – Example: blue cheese dressing (low – carb)
Dinner
Meat or other protein source – Example: roast beef
2 cups of salad greens or cooked greens – Example: cooked spinach
OR 1 cup of vegetables – Example: green beans
Fat source (optional) – Example: butter for green beans, cheese sauce for spinach
KETO DIET DAILY EATING PLAN
It is my basic eating plan. I try to stick as closely to it as possible. It keeps me honest! I can cook the same meals for my family, and can add high carb sides for them, like rice, potatoes and pasta.
6 am
BREAKFAST
2 eggs, any way you want them
Bacon, sausage or Canadian bacon
Coffee with heavy cream
SUPPLEMENTS
Plexus Slim
2-Accelerator
2-X Factor
2-BioCleanse
9 am
SNACK
Your choice of low carb snack
12 pm
LUNCH:
4-6 oz. meat or fish
2 cups salad vegetables
fat source : low carb dressing
3 pm
SNACK
Your choice of low carb snack
6 pm
DINNER:
4-6 oz meat or fish
1 cup low carb vegetables
fat source
9 pm
SNACK:
Your choice of low carb snack
SUPPLEMENTS
2 ProBio5
2 BioCleanse
HOW I MENU PLAN
Usually when you see a blog post about meal planning, you come up with meals that you want to make, and then develop a shopping list of items you need. I do it from the opposite direction.
Using my planner sheet, I start going through my freezer, refrigerator and my pantry.
I list whatever meats and vegetables I have in the freezer, then whatever vegetables have left in the refrigerator, and then I use the pantry section for potatoes, sweet potatoes, onions, and any fresh veggies I may have on the counter from the garden.
I start putting together meals from what I have.
I don't like to label the meal blocks by day. I prefer labeling by "meal" because I never seem to stick with my original plan. I may have fish scheduled for Tuesday and end up eating it on Friday.
I use a section for all of the prep items that I am going to get ready for the week.
To make things simple, and to keep myself honest, I eat pretty much the same thing for breakfast, lunch and dinner every day during the week. I can eat something fun on the weekend.